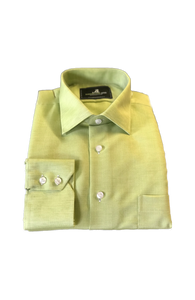 This fabric is made with 50% Bamboo which is incredibly soft, smooth and luxuriously comfortable. Our Bamboo has a similar look to our Linen but has a more fluid drape, where the Linen has a stiffer feel. 

Advantages of Bamboo:
 
Incredibly absorbent and wicks away moisture from the body to keep the wearer comfortable.
Breathes well.
Contains natural anti-bacterial and anti-fungal agents and so bamboo fabrics are good for sensitive or allergy prone skin and have good deodorising properties.
The growth cycle of Bamboo is sustainable.
Bamboo thrive without the need for pesticides.
Bamboo fibre is 100% biodegradable.
Bamboo grows well where nothing else is viable. It grows fast and yields more than other crops.
Bamboo needs little water to grow.
If you are an existing customer, we will have your pattern on file, so please just let us know the design and colour you wish & we can make your bespoke shirt that way.
If you wish to order online, please do so and we will send you an in depth measurement & design form & we can always help via FaceTime, Skype, on the phone or via email to iron out the finer details for your bespoke garments.
You are also more than welcome to come and see us in our Cirencester Showroom where we will show you the fabrics in the flesh & measure you up.