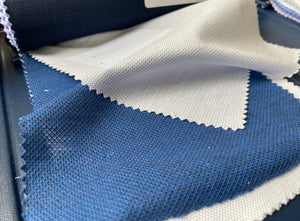 Some stunning shirt fabrics from Logo Piana.
100% cotton weighing in at 175 gr/m2 and very loosely woven, an airtex type finish.
Available in white and a lovely rich blue, these make up a beautifully as a summer shirt.
Order online and you will receive a call back where you will discuss with one of tailors all about your design and measurement desires for your tailored garments.
We would also very much like to welcome you to our Cirencester Showroom where we can do the measurements face to face.
Any questions or queries please do not hesitate to contact us.