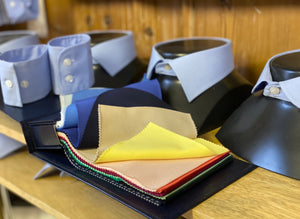 Give the perfect gift, give bespoke!
This gift voucher for one of our bespoke polo shirts allows the recipient to choose from our selection of cotton pique fabrics, choose whether they want long or short sleeve, what cuffs they want and choose the collar they want and then have their polo shirt made just for them from their exact measurements!
See our bespoke polo shirts here 
Our polo shirts are most popular with our classic shirt collar. This is a fully interlined collar with pockets for collar stiffeners and prevents the polo shirt collar ever drooping, curling up at the ends and becoming unsightly.
Perfect to wear under a jacket, on the golf course or when you are going out.
Upon purchasing you will receive a gift voucher with full details regarding the fabrics and options, as well as a self measurement guide or a booking form to come and see us and be measured up.
Any questions, please do let us know and we can personalise each gift voucher.