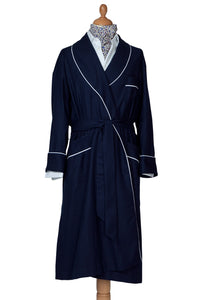 Made in England from your choice of cotton.
Designed with a classic large shawl lapel with piping, unlined and with turn back cuffs and belt fastening.
A full range of outside pockets
Have a look at the link below to get an idea of fabrics you can use.
Cotton Fabrics - Click Here
These are just a small selection of the fabrics that we can offer. If you purchase online you will be sent an in depth fabric and design guide, or please do feel free to book into see us in our Cirencester Showroom or use our visiting tailor service.