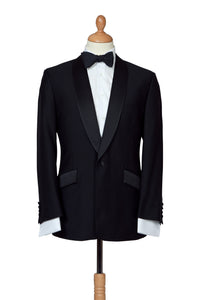 A classic English look. The classic DJ
Available from a selection of barathea fabrics, see a selection here, 
Barathea is an expensive fine English cloth, closely woven with a slight diagonal weave appearance and broken rib effect. It has a granular or pebbled surface but it feels smooth to the touch. Mainly used as a suiting or uniform fabric and it can also be used in men's evening clothes.
Available in any design and with or without silk facing and silk side seams.
Book in to our Cirencester Showroom or use our visiting tailor service